What is a Fire compartment survey?
A Fire Compartmentation assess whether the existing fire compartment walls (including doors within them), floors and ceilings within the property are likely to restrict the potential spread of fire and smoke for the required period of time as identified in the buildings fire strategy.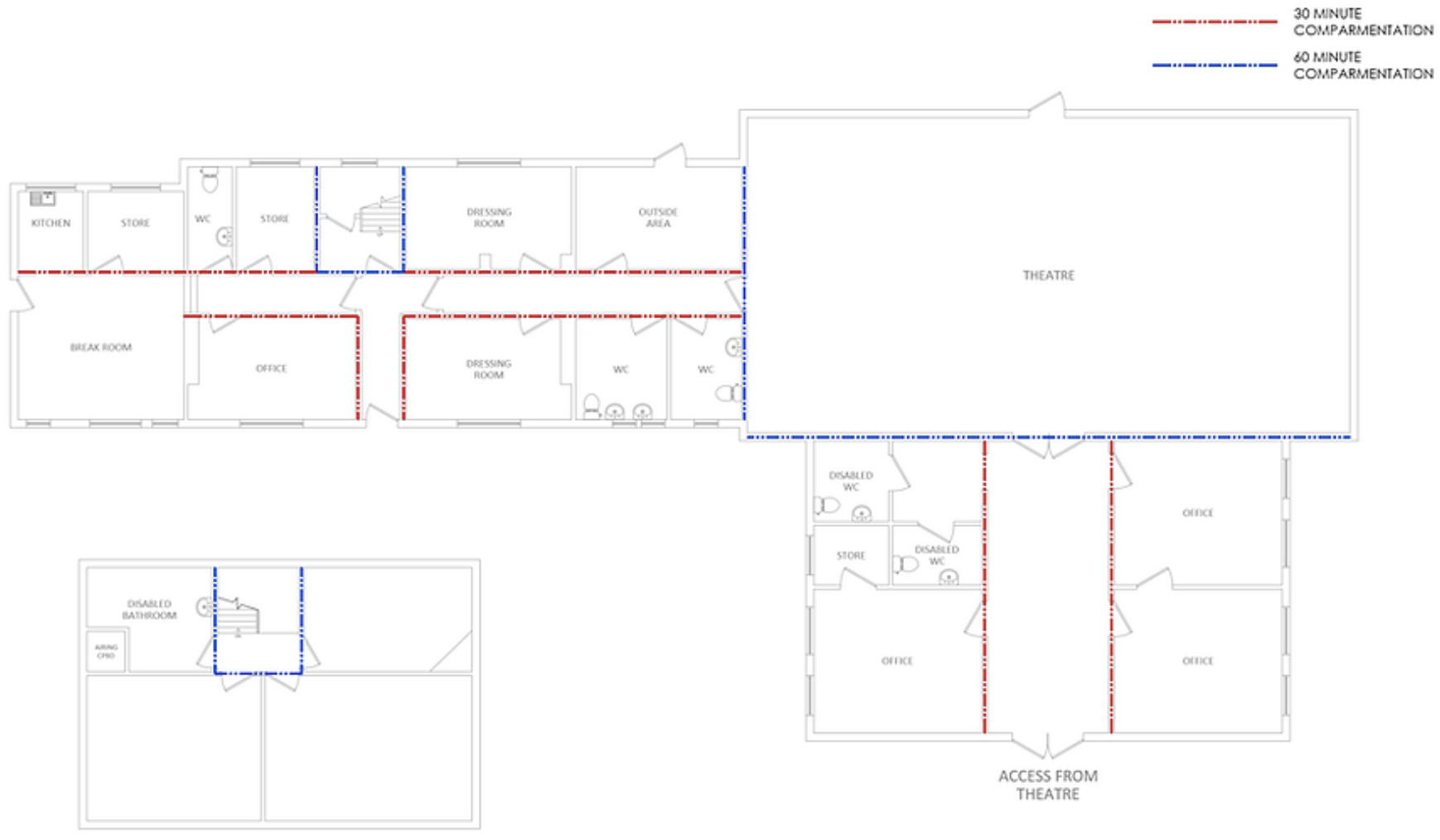 How do I know if I need a compartmentation survey?
Building owners are required under the RRO Fire Safety Act to carry out annual fire risk assessments. These will review the buildings existing fire compartment measures. However, the scope of a fire risk assessment will not extensively cover every area or item of fire compartmentation and a more detailed survey may sometimes be recommended. Sampling can indicate the presence of significant issues, such as locating or confirming the presence of fire dampers or establishing if existing measures meet the requirements of current guidance or to meet other specific business resilience objectives.
If you have had a Fire Risk Assessment carried out on your premises, one of the action points on your "Fire Action Plan "could be a recommendation to have a Fire Compartmentation Survey undertaken. This tends to be the case where the Fire Risk Assessor has identified numerous breaches in fire compartment walls, ceilings, and floors, and
Why do I need a Fire Compartment survey?
All occupied buildings, other than private single occupancy dwellings, particularly those where there is a sleeping risk such as Care Homes, Hotels, Flats etc. the buildings are designed and constructed in such a way as to prevent the spread of fire and smoke from one part of the building to another, this is known as "compartmentation". The objective of fire compartmentation is to prevent the spread of smoke and fire. By subdividing the building, the fire will not be allowed to spread, it also ensures escape routes are protected for the occupants, high risk or high-value areas and prevent extensive losses.
Where there are door openings within compartmentation walls, they should be provided with appropriate fire doors. Any other penetrations that pass through the compartment walls, ceilings, or floors such as pipes, ducts, cables, conduits, joists, purlins and rafters must be fire-stopped to prevent the spread of fire and smoke via these routes.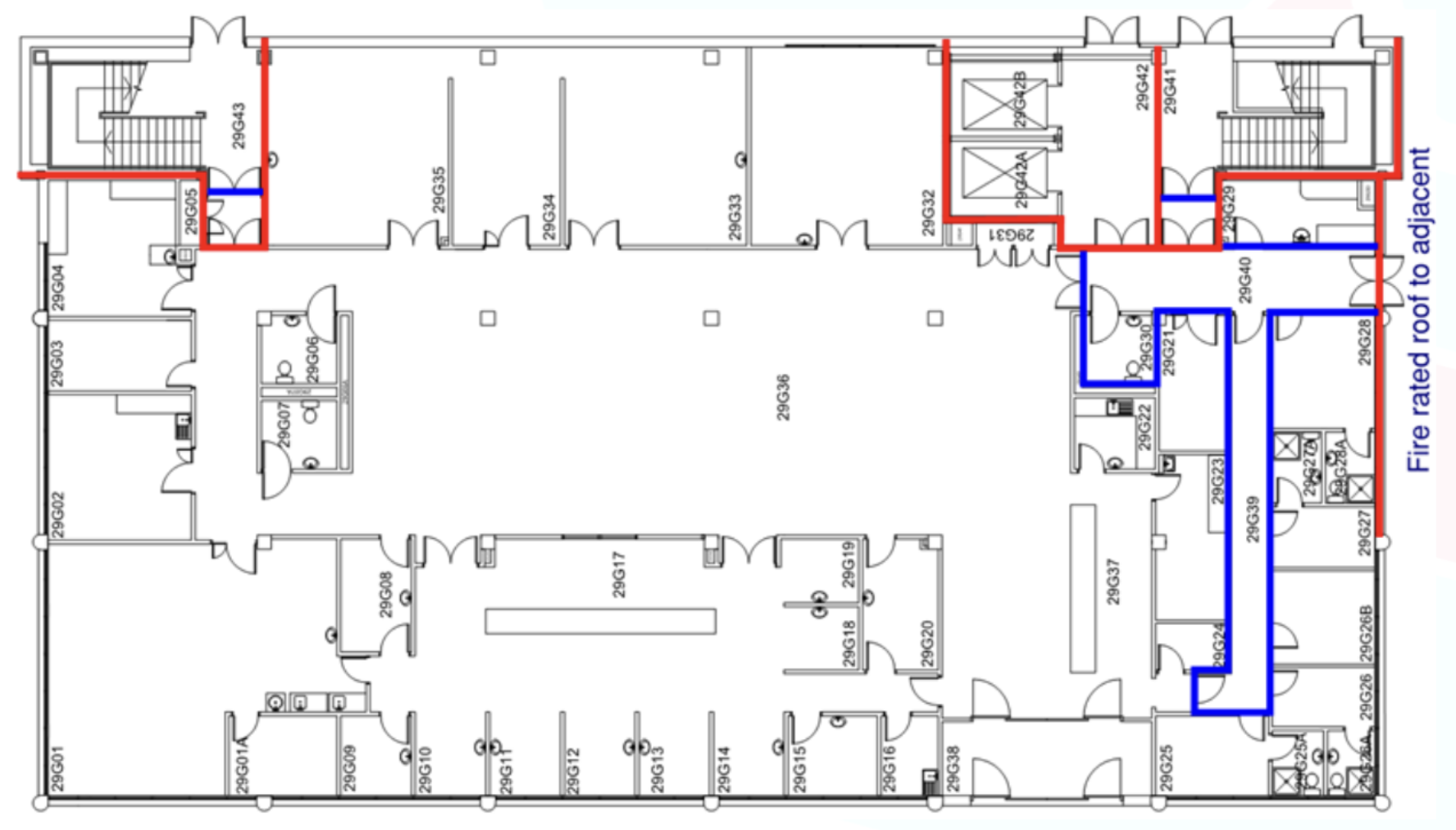 Do the surveys cause damage?
Surveys can be intrusive or non-intrusive, ceiling tiles and/or raised access floor tiles will need to be lifted and roof spaces, within service rises, within boxings inspected as a minimum but removal of fixed panels or forming holes in walls (intrusive) may not be practical. and involves investigative works within roof spaces, ceiling, and floor voids, as well as within service rises, behind boxings etc.
What is included in the survey?
A visual inspection of the overall condition of the existing fire compartments.
A review of the condition and effectiveness of the existing firestopping and general sealing of fire compartment walls and floors.
An inspection of existing fire stopping of service penetrations through fire compartment lines.
How will the information be relayed to me?
When the site survey is complete, a report is then published which will include a description with photographs of the observations recorded. The report may also include proposals for remedial works required to reinstate the fire resistance in accordance with the buildings fire strategy, this will ensure the spread of fire and smoke is restricted.