Maintaining fire compartments in buildings, allowing for safe evacuation and property preservation.
Passive Fire Protections sole purpose is to protect occupants and maintain the integrity of a building in the event of a fire.
Fire compartmentation sub divides a building into smaller manageable zones. Firestopping to walls, floors and fire barriers in voids limit the spread of smoke and fire by containing it in controlled area for a period of time. This form of fire protection ensures an adequate means of escape and minimises the extent of smoke and fire damage by providing protection to adjoining buildings in the event of a fire.
The Association of British Insurers (ABI) has noted that UK businesses made fire property claims of £940m in 2018 as a result of fires.
The London Fire Brigade estimate nearly 60% of businesses never recover after a fire.
There are around 22,000 workplace fires every year in the United Kingdom or around 423 every week on average."
How does passive fire protection work?
Should a fire occur, various fire stopping systems help to contain smoke, fire and heat a for a predetermined period of time. Fire stopping products are passive and inert, they maintain their integrity when exposed to heat. They may expand to close plastic pipes as they melt but they require no external activation or mechanical assistance. Therefore they do not rely on human intervention. 
When services are removed or replaced as they pass through a fire wall or floor, they will create an imperfection in the wall, this allows fire and smoke to pass through these gaps, a few small holes can cause an entire fire compartment to fail and allow the fire to spread throughout the building, compromising escape routes and leading to a complete loss.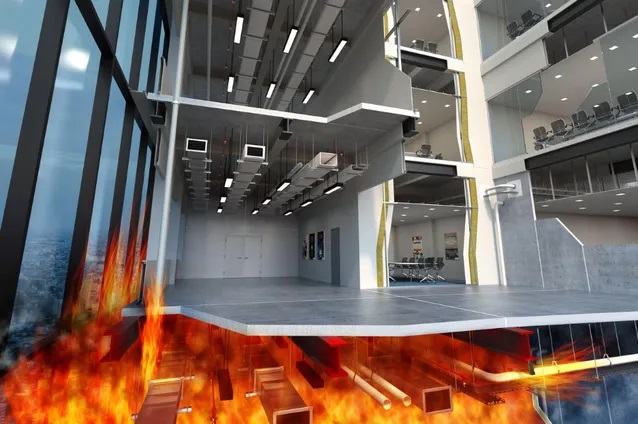 Types of Passive fire protection
Many buildings have built fire resistance in their construction.  However, as soon as these elements are altered or services added, they lose their ability to stop smoke and fire. Every aspect of a building will require some level of fire protection, these are some of the systems available. By their nature, all passive fire protection systems are resistant to fire.
The systems detailed here will stop the spread of smoke and fire for a designated period of time. 
Penetration seals for pipes, cables and other services
Where services pass through fire walls and floors, they create a vulnerability in the fire compartment's ability to stop smoke, heat and fire travelling from one area to another. Firestopping products are installed around these services to reinstate the fire performance of the compartment.
Linear gap seals
Horizontal and vertical joints in construction allow smoke heat and fire to pass through fire compartments. Where these gaps occur, firestopping materials can be installed to the same rating as the surrounding structure. These systems usually accommodate movement as this may be the reason the joint was created.
Fire doors
Fire doors are designed to save lives by maintaining safe access and egress of both escaping occupants and accessing fire-fighters.  Fire doors are manufactured and proven by test to withstand fire for a set period of time. Fire doors are a component system which consists of the frame, door leaf, vision panel and hardware. They are typically fitted with intumescent seals, installed in the frame or leaf, which expand to seal the door when exposed to heat. Cold smoke seals are also often fitted to prevent the passage of smoke in the early stages of a fire.
Fire barriers or curtains
Fire Barrier Systems effectively prevent the spread of fire and smoke within roof, ceiling voids and other concealed spaces within a building. These systems are typically mechanical fixed to structural elements of the building and suspend themselves along a designated fire break. These barriers are usually constructed of mineral fibre or other fibrous materials, they are easy to cut and manipulate to the shape of the void.
The building envelope (façade, curtain wall, rainscreen and slab edge)
A specific type of cavity designed to be installed between the edge of the buildings structural floor slab and the external envelope. These systems can be flexible or rigid, installed under compression or mechanically fixed. They can fill the entire void or be in an "open State" where ventilation is essential and intumescent materials react when exposed to heat to close off the cavity.
Cavity barriers
Building Regulations Approved Document B defines a cavity barrier as a construction, other than a smoke curtain, which: closes a concealed space against penetration of smoke or flame; or. restricts the movement of smoke or flame within such a space. By their virtue they are usually concealed within the fabric of the building and installed during construction.
Structural steel frame protection
When a steel frame structure reaches 550oC (Standard fire tests operate at 1300oC) it loses its strength and can begin to fail. Steelwork can be protected for several hours against the attack of fire using various methods. 2 of the most popular are thin file intumescent paint that can be spray, brush or roller applied to steelwork. This is typically very thin at around 1mm on average and expands 50 times its thickness when exposed to fire to protect the steelwork.  The other option is to encapsulate the steel in a fire board that physically protects the steel from the heat of the fire by insulating it through its thickness. The board is inert and does not react to fire, it simply resists it.
Acoustic Sealing
Part E of the Building Regulations in the UK sets out the requirements for sound insulation in buildings. To meet these requirements, the use of fire batt and mastic as acoustic sealing materials is increasingly being adopted by builders and contractors.
Fire batt is a type of fire-resistant insulation material that is used to fill cavities in walls, floors, and ceilings. In addition to its fire-resistant properties, fire batt also provides good sound insulation, making it an ideal material for acoustic sealing. In the same way it adapts to fill gaps for air, it can do the same for sound.
By filling cavities and sealing gaps and joints, fire batt and mastic help to reduce the transmission of sound between rooms and between the interior and exterior of a building. This not only improves the sound insulation of a building but also enhances the overall acoustic performance of a building.
Air Sealing
Part L of the Building Regulations offers guidance on ensuring the energy efficiency and sustainability of buildings. It requires buildings to be airtight to reduce heat loss and improve energy efficiency. This helps to reduce carbon emissions and combat climate change.
Airtightness Testing is required to meet with the requirements for Conservation of fuel and power as detailed in Part L. Due to their intrinsic ability to stop fire and smoke, fire batt and mastic are very effective at restricting air loss. Fire batt and mastic is an adaptable system that can be used to fill gaps and joints in external building junctions where internal walls and floors meet external facades and roof linings.
By sealing these imperfections, fire batt & mastic help to prevent air leaks and reduce heat loss. This not only improves the energy efficiency of a building but also enhances indoor air quality by preventing drafts and pollutants from entering the building.
In addition to its air-sealing properties, fire batt and mastic is also an effective soundproofing material. It helps to reduce noise transmission between rooms and between the interior and exterior of a building.
Frequently asked questions
Do I need passive fire protection?
New and existing building owners and operators have a legal responsibility to ensure their buildings are fire safe, this includes passive fire protection. Local fire and rescue authorities visit premises to check the fire risk assessment and fire prevention measures are appropriate.
Fire safety officers can act if they think your fire safety measures are not adequate. For example, they might issue an informal notice suggesting safety measures.
They also have the power to issue one of the following formal fire safety notices, these can have restrictions on businesses operating:
Alterations notice, if your premises have high safety risks or will have high safety risks if the use of the premises changes.
Enforcement notice, if the fire and rescue authority find a serious risk that's not being managed. It will say what improvements are needed by when.
Prohibition notice, if the fire and rescue authority think the fire risk is so great that access to your premises needs to be prohibited or restricted. A Prohibition notice takes effect immediately.
In addition to meeting your legal requirements for fire safety, passive fire protection can also allow you to obtain property insurance and ensure that should a fire take hold there is a far greater chance of limiting the spread of the fire and the extent of the damage, allowing business to begin trading much sooner and retaining regular trade.
What are the regulations governing Passive Fire Protection?
Guidance for new buildings is covered by Approved document B of the building regulations. The regulatory reform fire safety order 2005 (RRO) (FSO) sets out the requirements for existing buildings. There are other guidance documents such as the Health Technical Memorandum (HTM) 05-02 which provides information on fire safety in the design of new healthcare buildings and extensions. The Building Bulletin 100 is a design guide for fire safety in schools.
What is third Party certification?
Certificated installers are subject to UKAS accredited independent auditing of their office and site-based activities combined with competency assessment of operatives and supervisors.
Approved document B states: "Independent schemes of certification and accreditation of installers can provide confidence that the required level of performance for a system, product, component, or structure can be achieved."
The Association for Specialist Fire Protection (ASFP) only recommends third-party installer certifications schemes that have been accredited by UKAS.
Recognised certification schemes in the UK include: IFC installer certification scheme, Q Mark from BM Trada, FIRAS from Warrington Exova, BRE LPCB Passive Fire Protection
What areas do you cover?
Murus Fire Protection covers the whole of the UK and Ireland, including all of East London.
Is the installation of fire protection disruptive?
We have experience of working in live hospitals, factories, hotels, and military installations. Passive fire protection typically requires only small hand tools, and most of the work creates little to no noise. Our operatives are considerate and will adapt to the environment to satisfy the clients' requirements.
Can Passive fire protection save me money?
Ensuring your premises are up to regulations and fire safe can ensure Fire Risk Assessments are more efficient, and that any visits by local fire and rescue do not result in an enforcement or prohibition notice which could cause your business to cease trading if deemed unsafe. Pro active approaches to passive fire safety could also result in lower insurance premiums.
Are you able to offer fire risk assessments or fire strategy drawings?
Murus work closely with several fire risk assessors and fire engineers. We can assist in providing a complete solution from identification, design (by others) and installation of passive fire protection solutions.
Do you offer Air Sealing or Acoustic Sealing?
We offer both Air Sealing and Acoustic Sealing. Air Sealing may be required to ensure gas tightness in comms or data rooms where inert gas suppression systems are installed.
We can also offer acoustic sealing to aid with compliance of Resistance to sound: Approved Document E of the building regulations.
Here's what our customers think
"We have used Murus in the past and their level of expertise is second to none. They came out and assessed our property, developed a comprehensive document on actions that needed to be taken."
"George has been our main point of contact and from initial contact, his level of expertise has been unrivalled. He took time to get to know our requirements and we now have a workplace that we feel fully safe in."
"Murus excel above their competition. Fire safety is paramount in today's world and their level of detail and recommendations ensure that our workplace is safe for staff and customers. Thanks Murus, we would highly recommend."